Many thermal baths resorts and day spas within easy driving distance of Lake Geneva (Lac Léman) are open year-round and particularly popular during winter.
The water of Lake Geneva warms up sufficiently every summer to allow for pleasant swimming but year-round visitors may enjoy hot water in several spas and thermal bath resorts in the region. Leukerbad (Loècle-les-Bains), Ovronnaz, and Illiez are in the Alps in the Valais Rhone Valley in Switzerland. Aquaparc in Le Bouveret and Évian are directly on the banks of Lake Geneva while Divonne and Vitam Parc in France near Geneva, Yverdon on Lake Neuchatel, Saillon in the Rhone Valley, and Gruyère are all in the plains and mostly snow-free even in winter.
All-day spas and hot spring resorts listed below are within easy driving distance of Lake Geneva and most may easily be reached on public transportation as well. Trainline sells tickets online for trains and buses and is often easier to use than CFF.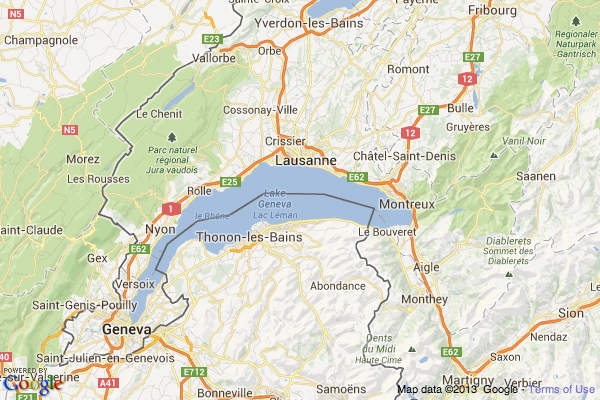 Transportation times and distances to hot spring spas below are calculated from Lausanne. When traveling from Geneva Airport (GVA), add 60 km or 45 minutes driving and 45 to 60 minutes for train travel.
Top Hot Water Resorts and Day Spas near Lake Geneva
Admission to the hot water pools and spas in the Lake Geneva region is generally for two hours to a day. Most have day spa treatments, massages, and beauty treatments, which should usually be booked in advance. Most resorts and baths have adult-only wellness areas.
The pools in these Swiss spas are very much clothes-on facilities although day spas and saunas may be textile-free. For men and boys, swimming shorts should never cover the knee and although smaller is preferred, only a few pools in France still insist on speedos or tight trunks.
For families, the best choices are the Leukerbad Therme (previously Burgerbad), Aquaparc, and Vitamparc. The availability of discount family tickets is usually a good indicator of to what extent the thermal baths are welcoming to families and smaller children. The minimum age for entering the warm pools is usually around three or four years.
Food and drink are available at all spas and most have accommodation directly linked to the hot water resorts too.
Most baths claim some medical benefits and cures but most visitors simply go to relax and have a good time.
The baths below are open year-round but even so, most have more facilities, especially for families, in summer than in winter. In summer, many further pools, water complexes, and beaches are available in the Lake Geneva region.
Leukerbad – The Biggest and Best Hot-Spring Resort in the Alps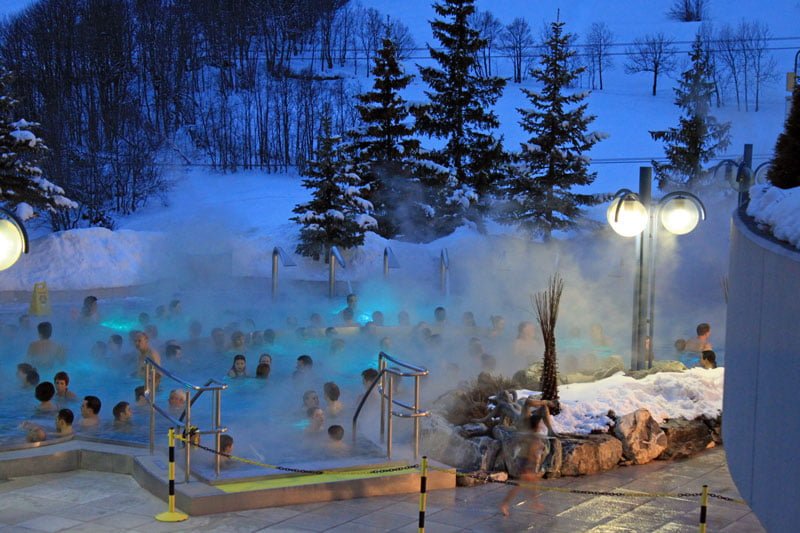 Leukerbad (Loèche-les-Bains) at 1,400 m above sea level claims to have the strongest hot water springs in the Alps. This small and beautifully located town in Valais has several public baths and spas while most of the top hotels have their own private facilities for guests. The hot springs here fill around 30 pools.
Leukerbad spas and hot water pools open to all visitors include the family-friendly Leukerbad Therme (previously Burgerbad) with water slides and the Walliser Alpentherme (previously Lindner) (best for adults and spa treatments).
Leukerbad has many excellent hotels and is a great weekend destination – see Trip Advisor to compare prices and ratings. The area has excellent ski facilities and many hiking routes. Cable car and thermal bath combination discount tickets are available.
See also: Transportation to Leukerbad – 140 km / 1h45 or 2h20 by train and bus from Lausanne. Trainline sells mobile tickets for the train and bus combination.
Les Bains d'Ovronnaz Thermal Baths in Switzerland
The Thermalp in Ovronnaz is a large thermal baths complex at an altitude of 1,350 m high above the Rhone in Valais. Special ski and baths discount deals are available, as the area is also a popular winter sports resort. See TripAdvisor for a selection of hotels in this small resort.
In addition to the pools and water features in Ovronnaz, a large range of day spa treatments is available in the adults-only wellness center. (Saillon is at river level below Ovronnaz.)
Transportation to Ovronnaz: 90 km / 1h20 or around 2h00 by train and buses from Lausanne.
Les Bains de Saillon in the Rhone Valley, Valais
Les Bains de Saillon is conveniently located in the Rhone Valley close to the river — Ovronnaz is more spectacularly located up the road in the Alps. The baths here have the regular hot pools, day spa facilities, gyms and restaurants. However, it also has a disco some nights (over 18s only).
Getting to Saillon by car is a fast 80 km / 1h00 drive mostly on the Autoroute A9 from Lausanne. Travel time by train and bus (change in Martigny) is around 1h20.
Les Bains du Val d'Illiez near Champéry
The thermal baths at the Thermes Parc in the Illiez Valley are in the heart of the huge Portes du Soleil ski area with easy road and rail access to Chamonix and Mt Blanc in France. The spa is at the center of a large complex with over 200 holiday homes and apartments. The thermal baths complex has large pools, a river, and jet streams while further Jacuzzis, saunas, and steam baths are available in the wellness area and day spa.
Transportation to Illiez: 60 km / 0h50 or 1h30 by train from Lausanne.
Les Bains de Lavey – Hottest Mineral Waters in Switzerland
The thermal baths at Lavey-des-Bains have the warmest source in Switzerland. The large complex is near the autoroute and Rhone River between Aigle and Martigny making it very easy to access by car without having to drive up into the mountains. It is the closest of the Valais mineral water day spas to Lake Geneva. Children under 4 years old are not allowed into the complex.
Transportation to Lavey: 60 km / 45 minutes by car or train from Lausanne.
Aquaparc – Water Fun Park with Slides on Lake Geneva
Aquaparc is a water park with warm water pools, numerous toboggans and slides, a beach with a wave pool, and an adults-only relaxation spa area. Aquaparc is more a fun park than a hot water resort and hugely popular with families. However, the adults-only space is ideal for relaxing with saunas, steam room, and spa treatments.
Aquaparc is in Le Bouveret right on the banks of Lake Geneva where the Rhone River enters the lake. It can easily be reached from Lac Léman towns as well as ski resorts in the Valais.
Transportation to Aquaparc – 60 km / 0h50, or 1h10 by train and bus from Lausanne.
Les Bains de la Gruyère in Fribourg
Les Bains de la Gruyère in Charmey is a large thermal bath wellness center with modern facilities. In addition to the pools, admission includes the use of saunas and steam rooms.
The thermal baths are in the small town Charmey in the pre-Alps in Fribourg. A soak in the hot waters combines well with visits to nearby sights such as Gruyères (old town and castle) and the Maison Cailler Chocolate Factory in Broc. Old town Gruyères has a small selection of hotels – it is again a sleepy town at night once the day-trippers have left.
Getting to Charmey by car is around 60 km / 0h50 or 1h20 by train and bus.
Centre Thermal in Yverdon-les-Bains on Lake Neuchâtel
Yverdon's Centre Thermal has three hot pools for visitors of all ages with further spa treatments, a fitness center, and other wellness facilities reserved for adult use only. In general, the atmosphere of the indoor pool is more welcoming to adults than to families with smaller children.
Getting to Yverdon is very easy with the thermal baths just off the Yverdon South exit from Autoroute A1. Yverdon is 40 km / 0h30 north of Lausanne. Trains take 20 to 40 minutes.
Divonne-les-Bains in France near Geneva
The natural springs in Divonne-les-Bains are very cold but heated for spa use. The town has several day spas and prices are generally high. Valvital has the largest facilities but other day spas have more exclusive pools and spa treatments. In summer, large more family-friendly open-air pool complexes are available.
Divonne is easiest reached by car and is 50 km / 0h35 from Lausanne – from Geneva Airport only 20 km / 0h15. Public transportation is possible by bus from Coppet or Nyon train stations in Switzerland.
Vitamparc in St-Julien-en-Genevois in France
Vitamparc is a large water and sports park just across the border from Geneva in France. This fun park belongs to Migros, which often offers discount vouchers on the back of supermarket receipts.
Vitamparc has pools, toboggan water slides, a gym, day spas, badminton courts, climbing walls, and shopping center.
Transportation to Vitamparc is easiest by car: from Geneva Airport it is 19 km / 0:20 and from Lausanne 75 km / 1h. On weekends and Wednesday only, Geneva public bus TPG line D provides transportation to Vitamparc from Bel-Air in downtown Genève in around 45 minutes.
Évian-les-Bains on Lac Léman in France
Évian is world-famous for its water while the Les Bains in the name hints at baths too. The natural springs of Évian are cold but the spa facilities at many hotels and the public Les Thermes Evian are well heated. Top hotels here, such as the Evian Royal Resort (Royal & Ermitage) and the Hilton, have top day-spa facilities with surprisingly good children's programs too (separate from the adult pools!) – the public facilities by comparison are fairly low-key.
Evian is a lively spa town during the summer but in winter can be very sleepy. The public baths are usually closed in December and January.
Transportation to Evian: 80 km / 1h20. If going to Evian simply for the spa and town, taking the ferry from Lausanne-Ouchy (0h35) is a much better option than driving.
From Geneva Airport to Évian is 70 km / 1h10 by car. Use the Leman Express train from Geneva main station, or more interesting but much slower (and more expensive) the ferry via Lausanne.
QC Terme Chamonix-Mont-Blanc
The QC Terme Chamonix-Mont-Blanc is a large day-spa facility in Chamonix in France at the foot of Mont Blanc. It claims to provide an Italian wellness experience in France but is also very easily reached from Geneva in Switzerland.
The QC Terme Chamonix-Mont-Blanc features 30 wellness options in a spa facility measuring a vast 3,000 sq meters. Admission tickets are available online.
Chamonix is a very popular day-trip tour destination from Geneva.