Travelers save with the Mobilis Lavaux Riviera day pass on trains and buses when exploring the vineyards between Lausanne and Montreux on Lac Léman.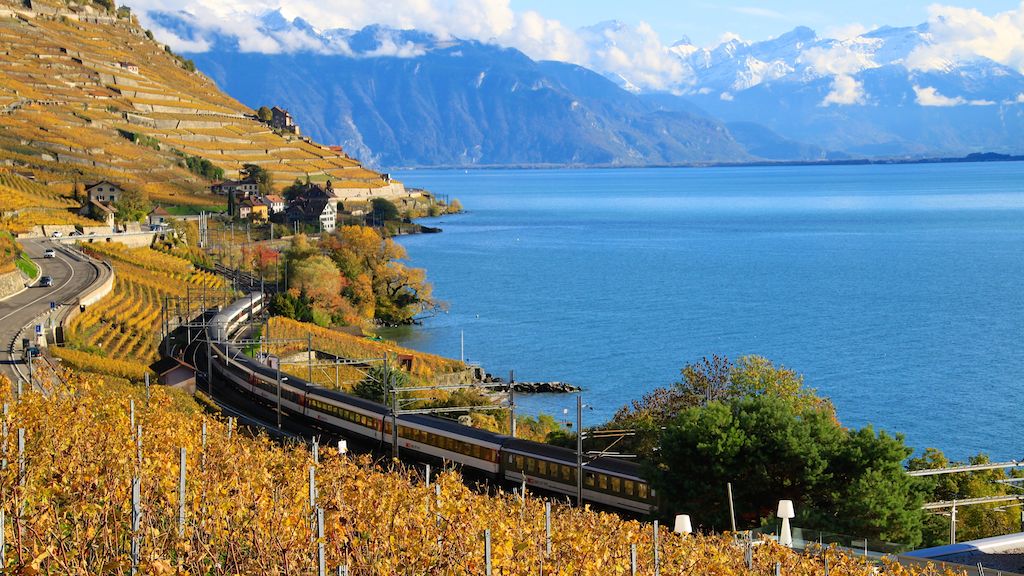 The vineyards of the Lavaux region on the northern shores of Lake Geneva in Switzerland are amongst the most beautiful parts of Switzerland. In addition to the UNESCO World Cultural Heritage-listed vineyards and small wine villages, travelers constantly enjoy the views of Lac Léman and the Alps in the background. A new Mobilis Lavaux Riviera Pass by Swiss Railways offers savings when exploring this region by train, bus and sometimes boat. This day travel card allows visitors to easily combine sightseeing with hikes or cycling and to continue by train or bus to further sights. Wine tasting is often possible, especially over weekends.
The Mobilis Lavaux Riviera Day Transportation Pass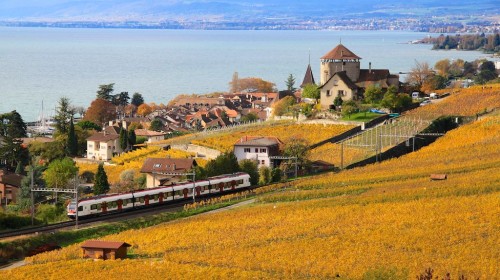 For the summer of 2014, Swiss Railways introduced a new day travel pass to explore the beautiful Lavaux region between Lausanne and Montreux. This day ticket allows for unlimited travel for a day on all Mobilis transportation in the region, i.e. all local trains and buses, as well as on CGN lake boats during the summer season. The Mobilis day passes for the Lavaux region is available in two versions (summer prices shown – in winter slightly cheaper when some services, including lake boats, are not available):
Mobilis Lavaux Pass, which includes transportation in the Mobilis regions 11, 12, 19, 64, 70, 71 and 72 (basically Lausanne to Vevey), at CHF30 (CHF15 for half-fare tickets and children); and the
Mobilis Lavaux Riviera Pass, which adds zones 73, 74, 77 and 78 (basically Montreux and Villeneuve) for CHF45 (CHF22.60 for half-fare tickets and children).
Bearers of the Lavaux passes can get a free glass of wine at some stops and discounts on guided tours. See online information in German or French on the Swiss Railways website. Even if not using the pass, it is worth getting the free brochure at local stations and tourist information offices, as it lists sights and opening hours of caveaux (cellars) for winetasting.
The Lavaux Pass can be bought at any place selling Swiss train tickets – stations, vending machines, online, and when boarding the bus. In Switzerland, the purchase of tickets must be completed before boarding a train. Tickets are not for sale on trains and smartphone purchases completed after the train has departed from the station will automatically add a fine (around CHF100 for a first offence).
Save with the Mobilis Lavaux Riviera Pass
The Lavaux passes can offer some savings but not necessarily for all travelers. The Lavaux Pass is simply a Mobilis day ticket with a different name, except in the season when boat trips are also included, which is not the case on Mobilis dayy ticekts. (Mobilis is the name used for the combined public transportation system in Canton Vaud, i.e. all trains, buses and trams. In Vaud, a return trip usually costs the same as a day ticket, which is great for making stopovers and exploring the region.)
Travelers can simply buy a normal seven-zone Mobilis ticket at the same price as the Lavaux Pass. It may even work out cheaper: e.g. by not visiting zone 72 (the area above Vevey), the seventh zone can be Montreux making it unnecessary for many to buy the Mobilis Lavaux Riviera Pass if not planning on traveling beyond Montreux. Similarly, Lausanne to Vevey can become a six-zone ticket, which again is a few francs cheaper.
Where the Lavaux Pass does save is when traveling from outside Canton Vaud and combining it with a RailAway offer, or when using the lake boats too. This will usually be gives a 20% discount on the train transportation to Lausanne or Montreux. In such case, the Lavaux Riviera day pass with return transportation from Geneva will be CHF74 (CHF37 half fare) in second class.
Exploring the Lavaux Region by Train
Three train routes through the Lavaux region are of special interest to travelers exploring the vineyards, small villages, and the magnificent views of Lake Geneva and the Alps:
The lakeside route (Lausanne to Vevey)
Lausanne to Puidoux-Chexbres
Vevey to Puidoux-Chexbres
These train lines roughly forms a triangle with Lausanne and Vevey on the bottom side and the lines to Puidoux-Chexbres the steep sides to this station high up in the hills above the Lavaux and Lake Geneva.
Buses provide further transportation in the region with useful links between lakeside and hill towns. However, these buses are often infrequent, so either double-check times or use them spontaneously. Taking the train with a connection in Lausanne or Vevey may often be faster than waiting for the bus.
In addition to the local trains described below, Interregio and Intercity trains also run through the Lavaux but usually only stop in Lausanne, Vevey and Montreux.
Lakeside Railway Line Through Lavaux
Local trains (RER / S-Bahn) operate on the Lausanne to Villeneuve railway line that runs directly next to or very near the shoreline of Lake Geneva. Trains S1 and S3 run once per hour in each direction with stops at the following stations (S1 stops only): Lausanne, Pully, Lutry, (Vilette VD), Cully, (Epesses), (Rivaz), (St Saphorin), Vevey, La Tour-de-Peilz, Burier, Clarens, Montreux, (Territet), (Veytaux-Chillon), and Villeneuve. Traveling times are short: the train stops every two or three minutes with Lausanne to Vevey taking only around 20 minutes.
Any stop between Lutry and St Saphorin offers great hiking opportunities in the vineyards. These stations are all near the lakeshore so hiking will be mostly uphill, at least at the start. It is a good idea to start hikes from a stop on train S1 and to return from a stop served by both S1 and S3, which have a train roughly every half hour. Sometimes it may be quicker to take a train from say Rivaz to Vevey and then another train to Lausanne than waiting at Rivaz for the direct train to Lausanne. Interregio and intercity trains also run on these railway lines with direct trains available to amongst others Geneva and the Rhone Valley of Valais. These trains usually stop only in Lausanne, Vevey and Montreux.
Lausanne-Puidoux-Chexbres Railways
The Lausanne to Puidoux-Chexbres railway line is busy but many trains here are intercity trains en route to Bern and beyond that do not stop in the Lavaux. S2 trains connect Lausanne and Puidoux-Chexbres hourly with stops en route at Pully-Nord, La Conversion, Bossière and Grandvaux. Grandvaux and La Conversion are great stations to start a walk from.
On weekdays, hourly S4 trains operate on this route as well proving transportation from each stop roughly every half hour. S21 provides a further hourly non-stop service between Lausanne and Puidoux-Chexbres. Lausanne to Puidoux-Chexbres traveling time on the slow train is only 14 minutes (9 on the direct S21).
The Vineyard Train – Vevey-Puidoux-Chexbres
Probably the most spectacular train journey through the Lavaux is on the S31 Train des Vignes (Vineyards Train) between Vevey and Puidoux-Chexbres. The journey takes only 12 minutes but the views are spectacular. The train only stops en route at Chexbres-Village (and on request at Vevey-Funi and Corseaux-Cornalles).
Fortunately, Chexbres-Village is also the best village to start hiking from. From here is a pleasant downhill walk to St Saphorin or Rivaz. Alternatively, stay higher on the hills and hike to Grandvaux. Much of this spectacular route can also be done on bus 382, which runs a few times per day along the Route de la Corniche towards Cully.
Lake Geneva Pleasure Boats in the Lavaux Region
Hiking and exploring the Lavaux region by train and bus combine well with boat cruises on Lake Geneva. These boats are not included in the Lavaux Pass only in the summer season (and not on regular Mobilis day tickets). Pleasure boat cruises depart frequently from Lausanne and Vevey with a few boats also calling at Pully, Lutry, Cully and Rivaz-St Saphorine in the Lavaux region. These stops are infrequent so either double-check departure times or arrive in the Lavaux by boat.
Tickets for CGN Lac Léman boat cruises can be bought online, at ticket offices at landings, or simply when boarding the boat.
For More on the Lavaux See Also: